Verdandi

Goddess of Destiny

Base: 25
Max: 80
Star Buffs
Hot Blooded I
CRIT +5%
Ruthless Strike I
CRIT DMG +20%
Ruthless Strike II
CRIT DMG +40%
"
Verdandi, Goddess of Destiny, possesses power over the present. She contentedly lives for the moment and gives little thought to the past or future. Guided by the Cube of Gaia, she and the Envoys of Gaia weave the webs of each other's destinies.

Dark magic and rope of destiny in hand, Verdandi is a merciless fighter. By spurring on bloodthirsty Entrancing Butterflies, she reduces both the damage her enemies inflict and removes negative effects suffered by her allies. As powerful as she is charming, this goddess is the perfect partner in battle.

"
Acquirable
Edit
To obtain this Eidolon's Key or Key fragments click the following links below.
Evolution
Edit
2 Star
3 Star
| Icon | Skill Name | Type | Property | Description |
| --- | --- | --- | --- | --- |
| | Fated Padlock | Debuff | | Using the rope of destiny, Verdandi weaves a web of fate, dealing DMG and immobilizing targets before her. |
| | Butterfly's Taste for Blood | Buff | | Verdandi and Muse's dances summon the dark power, creating a puppet that damages the target and depltes its Battle Stamina status. |
| | Entrancing Butterfly | Cleanse | | Verdandi and Muse perform a beautiful dance that entrances nearby allies and removes negative effects. |
Ultimate Skills
Edit
Icon
Skill Name
Type
Property
Description

Deadly - Entrancing Puppet Dance

Duelist,
Bard,
Brawler
Lancer
Using dark energy, Verdandi binds Muse with the Envoy of Gaia, who attacks targets and reduces their EVA with an entrancing dance.

Deadly - Dark Night Puppet Dance

Guardian,
Gunslinger,
Sorcerer,
Ranger,
Shinobi
Weilding the power of dark energy, Verdandi binds Muse with the Envoy of Gaia, who attacks targets and reduces their attack SPD with an entrancing dance.

Deadly - Crimson Puppet Dance

Ravager,
Wizard,
Grenadier,
Ronin,
Reaper,
Holy Sword
Wielding the power of dark energy, Verdandi binds Muse with the Envoy of Gaia, who attacks targets and reduces their DFS with a stunning dance.
Eidolon's Wish
Edit
Verdandi's Trick
Edit
Required item(s): Red Leech x10
Skills Bonus: CRIT +14, HP +44, EVA +16
"I've heard there is a type of ugly looking leech that makes people scream uncontrollably!"
"Did you know about this? Those things live in water... Ew!"
"Ha! Just like this leech here. I see you're not afraid of them. Good!"
"I would like to see you in shock actually... What a pity."
Verdandi's Gardening
Edit
"I am a little bit unsettled that I haven't been watering the World Tree ever since I left home..."
"Hm... Would you like me to help you take care of the farm in the Estate?"
"Are these... For watering the plants?"
"Ha! Seems to me that gardening isn't really your forte."
"Okay then, let's just try first. And then I'll teach you how to do it properly!"
Verdandi's Web of Fate
Edit
"The web connecting the beginning and the end of a life is related to fate obviously."
"Do you believe in fate?"
"Okay, but you can't look at me while I'm doing it! Otherwise I'll go home!"
"Ha ha ha, just kidding. Your web is fine as it is. No other can compare to it."
Verdandi's Puppet
Edit
"Clara's regular maintenance is very important."
"The sight of these broken parts makes me sad..."
"Hm... Are these for Clara?"
"Ha! These aren't even close to the branches from the World Tree, but they'll do I guess."
Verdandi's Puppet (cont)
Edit
"However, apart from the limbs, internal repair is the most important part."
"Fate thread is of the utmost importance! Without those lively soul-filled threads..."
"Clara would just be a regular puppet..."
"Exactly! These are exactly what I need. You're very fast!"
"Ha! I guess I should reward you!"
Verdandi's Present
Edit
"Now that we have each other, do you still look back on the past or wonder about the future?"
"Their temptation is greater than the present's, I'll grant you that..."
"Do you care about the present the same way? Ha! I knew I was right in choosing you."
"We're clearly on the same page, so let's enjoy this!"
Conversations
Edit
To see this Eidolon's Linking, Conversative, and Non-Conversative Conversations click the link below.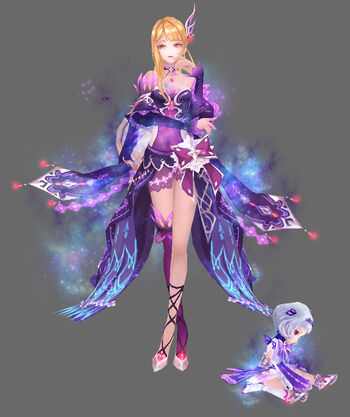 The image gallery for Verdandi may be viewed here.
Etymology
Edit
Verdandi is one of the Norns in Norse mythology, along with Urðr and Skuld. Out of the three, she represents the present. They are located at the well Urðarbrunnr beneath the world ash tree Yggdrasil of Asgard. They spin threads of life, cut marks in the pole figures and measure people's destinies, which shows the fate of all human beings and gods. Norns are always present when a child is born and decide its fate.
Alternative Names
Edit
| Server | Name/Translation |
| --- | --- |
| Fantasy Frontier (Taiwanese) | 薇兒丹蒂 (Verdandi) |
| Innocent World (Japanese) | ヴェルダンディ(Verdandi) |