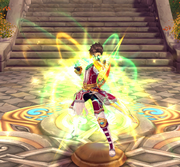 Teleportation is often used in combat and for other emergencies. Teleportation can be accessed by using the skill Teleportation, which can also be assigned in the hotbar for quicker access. The face of the icon has a stick person figure in the middle with a blue circle behind it.
All players have the ability to use the Teleportation skill. After using the Teleportation skill, the player is teleported to the traveling priest in the respective world field.
Warp portals can also teleport players to other parts of Terra. Warp cards can be used anywhere outside of dungeons and in non-combat situations.
Ad blocker interference detected!
Wikia is a free-to-use site that makes money from advertising. We have a modified experience for viewers using ad blockers

Wikia is not accessible if you've made further modifications. Remove the custom ad blocker rule(s) and the page will load as expected.