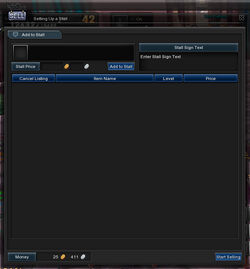 "
In light of frequent trade in the city, please consider transporting and managing your goods in the special Stall Area. All merchants are allowed to legally setup stalls in the designated area to exhibit and sell their wares as long as they obey the laws. The Stall Manager is in charge of handling related duties.
"

— Stall Information
Stalls or Stall Set-Ups are player-made shops set up in the Stall Area of Navea. Players have access to open up a stall once they reach level 40. Stalls lets players directly shop and browse other players' wares.
The stall function was established by the Church as a way to exchange goods.