Reinhardt, titled Shadow Knight, is one of the main antagonist of the game.
Appearance
Edit
Reinhardt has long, white hair and red eyes. With his black armor, he is thought as the ultimate knight with extremely strengthened powers and the most feared.[1]
Background
Edit
| | |
| --- | --- |
| | Spoiler warning: Be cautious when reading. |
Prior to the current events, Reinhardt used to be a Templar Commander before Andre, the best of all and most admired.[2] As years progressed, Reinhardt stepped down as the Templar Commander to marry Luciana, the love of his life.[2] However, when Luciana mysteriously fell ill, Reinhardt donned his Templar armor again - although not for the work as a Templar - to sought for a cure, traveling to places such as Miner's Steppe.[2] After many attempts to find the cure, he was unsuccessful[2] and resorted to the help of Belenus, the Grand Bishop of Navea. The Church's priests worked tirelessly to cure Luciana but to no avail. After the failed attempts, Reinhardt took Luciana to Silent Ice Field where he entombed her somewhere within the ice land, and he vowed to return to her and bring her back. Reinhardt was convinced that the blame for his wife's passing was the Church's and vowed to take revenge and disappeared, one of main reason that was mentioned during his meeting with Belenus is the Grand Bishop himself forbids him from entering Sky Tower to acquire medicine that can cure every illness. Should Belenus allow him to enter and conquer the Sky Tower, this tragedy could have been prevented.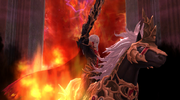 In the current events, Reinhardt's disappearance have brought darkness among Terra.[2] An Envoy of Gaia had dreamed of a war between the Church and the demons of Pandemonium, led by the Shadow Knight. The dream slowly began to take place in reality, and the identity of the Shadow Knight was Reinhardt, who was mentioned to have disappeared after his wife's passing. Throughout the Envoy's journey, the Envoy encountered Reinhardt and his demon army, learning that Reinhardt is also an Envoy of Gaia who rides on his black steed Eidolon, Aschensturm.
In the events occurring in Demarech Mines, Reinhardt had managed to acquire the Cube of Gaia and kill Andre's trusted Scholar, Lucas while also convince Lucas Apprentice, Maggie to defect from Church and from the past given by Hazel itself revealed that Reinhardt has some agreement with her and she will keep her mouth shut if any church interrogate him. Reinhardt sought to master the techniques of using the Cube of Gaia, where he brought turmoil in the lands of Terra but his plan of acquiring Miracle weapons forged from miracle stone was foiled by Envoy after Envoy succeded in securing Harvey who was revealed to be a Templar Blacksmith that was now succeded by his trusted apprentice, Analisa. As a former Templar of Navea, Reinhardt has had several relations with other Templars, such as Alex where he attempt to recruit and convincing him at Candeo Marsh that he will be one of his Commander and wielding great power as guarantee but Alex hesitantly turn down his offer, making Reinhardt leaves him states that nex time they meet, it will be an opponent much to Alex frustration. Reinhardt later appeared in the Church Audience Chamber, and, after a long conversation between Belenus and himself where he lamenting about medicine that can cure everything, summoned a large demon from Pandemonium by opening the portal to the death realm with the use of the Cube of Gaia. Envoy and Andre defeats the demon but with a cost of galf of Church Honor Guardsman.
Reinhardt's demon army has reigned on the lands of North Midgard. The demon army is now in a war against the inhabitants of Terra. Throughout multiple strike from Church Coalition Army at Vulture's Vale and Blizzard Berg, Reinhardt start to face multiple defeats and his army was forced to withdraw to Silent Ice Field after further pressure by Church Coalition Army.
In his dark fortress in Silent Ice Field, he send the Demon Assassin to Maggie with ancient language that Maggie only knows and after succeded in buying time, the Shadow Knight used the Cube of Gaia to resurrect Luciana but was halted by the Envoy of Gaia and the Templars. However, Reinhardt had managed to escape with the help of his followers as Maggie sacrifice her life to buy time for Reinhardt to escape
After his presence was discovered at Wrathborne Temple, Church Army make their final showdown against Reinhardt but even with Andre and three Templar High Commander, Anya, Victoria and Alex was not be able to stop him, even Envoy was defeated by Reinhardt after they breakthrough the temple sanctum. Luciana arrive to help Envoy and Belenus are using the medical potion which he lamented about prepare to make a final strike against Belenus but Envoy protected him with blessing of Luciana.
He pull the Envoy to the Inner Sanctum to make a final showdown and he open the Pandemonium Rift before the duel start. He was surprised to see Envoy manage to obtain blessing of his wife and become frustrated, he was defeated by Envoy and Luciana appear to stop him further from commiting unforgivable sins. With her spell, she vanished with Reinhardt but the Rift is opening, causing Belenus to remain there permanently as he select Imma as his successor.
As an enemy
Edit
Dimensional Belt
Edit
Reinhardt can be battled as an enemy. In the Dimensional Belt, Reinhardt is the tutorial boss.
In the prologue of the game, Reinhardt and his demon army was seen invading and fighting the Church's Templars in Wrathborne Temple. With his three demon commanders defeated by the Envoy of Gaia, Reinhardt appears and paralyzes Andre and other Templars. In return, the Envoy of Gaia, teamed with Sigrun, fight and defeat Reinhardt. However, Reinhardt recovers and stuns the Envoy with his immense powers, setting him on fire as a result. Although, the events happening were merely a dream of the Envoy of Gaia.
  Thunder Sword

      12.0s

   

Skill Damage:     6375




An ethereal blade wreathed in lightning. It almost hums with deadly energy.
  Dark Thunderclap

      8.0s

   

Skill Damage:     6375




An explosion of condensed dark energy that stuns the target.
This monster does not drop loot.
Frozenlea Plains
Edit
Reinhardt is battled again in Frozenlea Plains, who is trying to resurrect his deceased wife using the Cube of Gaia.
  Scarlet Laceration

      4.0s

   

Skill Damage:     73703




There's not much to be said about this skill... besides the fact that it channels years of pent-up rage, anguish, and vehemence into one perfectly-timed (and very effective) sword slash.

  Target's DMG dealt -20% and Def -1672
Can stack up to 5 times
  12.0s
  Sanguine Fury

      6.5s

   

Skill Damage:     73703




The Power of Gaia within you merges with an unknown power to generate powerful undulations of energy that boil your enemies' blood.

  Prevents a target from using skills
  3.0s
  Parasitic Rubicant

      8.5s

   

Skill Damage:     28662




Focuses an intense, manic energy to encircle a target, unleashing torrents of red miasma that inflict area DMG.

  Summons a "Cardinal Cyclone" upon a target
  Cross of the Claret

      9.5s

   

Skill Damage:     173972




Slash salaciously into your enemy's flesh in the shape of a cross, branding them for all eternity.
  Scarlet Laceration

      4.5s

   

Skill Damage:     87457




There's not much to be said about this skill... besides the fact that it channels years of pent-up rage, anguish, and vehemence into one perfectly-timed (and very effective) sword slash.

  Target's DMG dealt -50% and Def -2508
Can stack up to 6 times
  12.0s
  Sanguine Fury

      11.0s

   

Skill Damage:     87457




The Power of Gaia within you merges with an unknown power to generate powerful undulations of energy that boil your enemies' blood.

  Prevents a target from using skills
  4.0s
  Parasitic Rubicant

      7.0s

   

Skill Damage:     52819




Focuses an intense, manic energy to encircle a target, unleashing torrents of red miasma that inflict area DMG.

  Summons a "Cardinal Cyclone" upon a target
References
Edit