Michaela

Guardian Angel

Base: 25
Max: 80
Star Buffs
Onslaught I
DMG +8%
Ruthless Strike I
CRIT DMG +20%
Ruthless Strike II
CRIT DMG +40%
Onslaught II
DMG +16%
"
Guided by the Power of Gaia, Michaela, the Holy Guardian Angel, comes to the Envoy of Gaia in her quest for justice.

Michaela is blessed with the holy powers of angels and punishes evil with the great sword of justice. It's your best protection on the battlefield because of its power to reduce enemy's evasion and speed, along with its holy bond with the Envoys of Gaia.

"
Acquirable
Edit
To obtain this Eidolon's Key or Key fragments click the following links below.
Evolution
Edit
2 Star
3 Star
4 Star
| Icon | Skill Name | Type | Property | Description |
| --- | --- | --- | --- | --- |
| | Staggering Slash | Attack | | Michaela's holy power causes the enemy to stagger, reducing evasion. |
| | Thunderous Sanction | Attack | | Michaela blasts the ground with holy power, reducing the enemy's speed. |
| | Gloria's Oath | Buff | Assist | Michaela upholds an ancient oath to dispel darkness. |
Ultimate Skills
Edit
Icon
Skill Name
Type
Property
Description

Deadly: Righteous Blade
Lancer,
Bard,
Brawler,
Duelist
Michaela wields a sanctified sword and purifies enemies, reducing their defense.

Deadly: Vengeful Blade
Gunslinger,
Sorcerer,
Shinobi,
Ranger,
Guardian
Michaela wields a sanctified sword and purifies enemies, reducing their damage done.

Deadly: Eternal Blade
Ravager,
Ronin,
Grenadier,
Reaper,
Holy Sword,
Wizard
Michaela wields a sanctified sword and purifies enemies, reducing their CRIT.
Eidolon's Wish
Edit
Michaela's Memory
Edit
Required item(s): Fig x5
Skills Bonus: CRIT +14, HP +44, EVA +16
Start
"Do you know anything about this fruit? Its flowers grow inside."
"It exudes an alluring aroma underwater."
Finish
"This is the one. My companions and I used to use Common Figs to catch fish at the Holy River."
"... That's in the past... There's no going back to those times."
Michaela's Quiet Time
Edit
Start
"My sword and I must continue to exterminate evil wherever we find it. I can't stray from this mission."
"Though the war may be in the past, there's still much work to be done."
Finish
"... Oh, am I worrying you? I'll take this time to rest."
Michaela's Expression Training
Edit
Start
"Every time I muster the courage to speak with people they look scared."
"My expression? Do you think it's because I look so serious?"
Finish
"Really? This will make it easier to find friends?"
"You're joking, right? Hmm, making friends might be harder than I thought."
Michaela's First Mission
Edit
Start
"If we're going to keep the demons at bay we have to continue our work."
"There are still plenty of things to prepare."
Finish
"Did you find these? The demons won't dare make the same mistake next time."
"You are a formidable companion."
Michaela's Second Mission
Edit
Start
"I think we've prepared enough to take on any demons that dare challenge enough."
"Now to add the final touches."
Finish
"Thanks so much! This will help greatly while I fight the demons."
"Do you want to fight too? That would be a great help."
Michaela's Vow
Edit
Start
"Even the best partners can follow the path to betrayal..."
"You wouldn't betray me, would you?"
Finish
"On my sword's honor, I vow that our connection will be deeper."
"Our path will make us inseparable companions in the future."
Eidolon Archive
Edit
Following table displays archives which include this Eidolon.
Eidolons
Stars
Stat Bonuses

DMG +250, CRIT +110, Eidolon Accumulated Points +50
HP +410, DEF +55, EVA +150
DMG Taken from Boss Monsters -5%
DMG Taken from Boss Monsters -10%

Michaela
"God's mission is being delivered. This is the task we are going to carry out this time."
Uriel
"Oooyah-! I'm so excited! Hahaha! It's time to show you what I've got! Look at me! I'm going to annihilate him completely with my fists!"
Uzuriel
"... God... Mission... Forbidden fruit... Is it true... what Dante said...?"
Uriel
"Hey, Uzuriel! What are you muttering under your breath?"
Uzuriel
"No... Nothing."
Michaela
"...""

CRIT +80, EVA +120, Eidolon Accumulated Points +40
SPD +80, HP +300
Normal attack speed +3%
Normal attack speed +6%

Michaela
"Found you! You traitor."
Dante
"Haha, long time no see, Michaela. Or maybe I should call you the Aura Kingdom's Watchdog? It's sad really. You're more like the Aura Kingdom's Lapdog."
Michaela
"You've been corrupted, Dante. I won't let you sway me with your lies. With this sword, I swear to banish evil once and for all!"
Dante
"Hahaha! Fool! Very well then... Let's fight! I haven't forgotten the last battle!"

DMG +180, CRIT +80, Eidolon Accumulated Points +40
SPD +80, DEF +40
DMG Dealt +2%
DMG Dealt +4%

DMG +180, CRIT +80, Eidolon Accumulated Points +40
SPD +80, EVA +120
Move SPD +4%
Move SPD +8%
Conversations
Edit
To see this Eidolon's Linking, Conversative, and Non-Conversative conversations click the link below.
Main article: Michaela/Conversation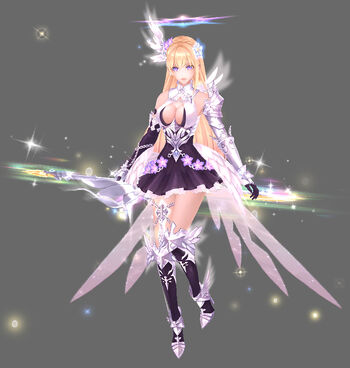 The image gallery for Michaela may be viewed here.
Etymology
Edit
'Michaela' is the feminine form for 'Michael', an archangel from Jewish, Christian, and Islamic teachings. His name in Hebrew literally means "Who is like God?". In Christianity, Michael lead God's armies against Satan's forces in the Book of Revelation, and defeats Satan.
Alternative Names
Edit
| Server | Name/Translation |
| --- | --- |
| Fantasy Frontier (Taiwanese) | 米迦勒 (Michael) |
| Innocent World (Japanese) | ミカエル (Michael) |
| Aura Kingdom (French) | Michaela |
   Eidolons

Starter
Released
Unreleased
Upcoming
Otohime • Konohanasakuya-hime