Kotonoha

Nine-Tailed Vixen

Base: 25
Max: 80
Star Buffs
Sprinter I
Move SPD +5%
Nimbleness I
EVA +5%
Nimbleness II
EVA +10%
{{{buff4 name}}}
{{{buff4 effect}}}
"
As a nine-tailed fox spirit, Kotonoha wields powerful and esoteric spells with ease, chanting secret mantras to defend her partner, or applying magical wards that greatly enhance combat prowess. Her keen eyes can pierce illusions to see the reality beneath.
"
Acquirable
Edit
To obtain this Eidolon's Key or Key fragments click the following links below.
Evolution
Edit
2 Star
3 Star
| Icon | Skill Name | Type | Property | Description |
| --- | --- | --- | --- | --- |
| | Slash of Numbing | Attack | | Kotonoha somersaults backward, spinning out a powerful magic wave that deals Holy damage and decreases the damage enemy deals. |
| | Miracle Drug | Heal | | Kotonoha releases a wave of vital elements, healing party members and increasing her own speed. |
| | Demonic Enchantment | Buff | | Kotonoha gathers fell power and brands it as an enchantment on her allies, enabling them to absorb a portion of damage dealt as health. |
Ultimate Skills
Edit
| Icon | Skill Name | Type | Property | Description |
| --- | --- | --- | --- | --- |
| | Holy Blackness | Attack | | Kotonoha calls upon a mystical energy to banish evil, dealing Holy damage to enemies within range and recovering your own health with the power of foxfire. |
| | Streaming Light | Attack | | Kotonoha channels her spiritual powers through you, unleashing powerful combo strikes that deal Holy damage to enemies within range and increase your Move SPD. |
| | Enlightening Death | Attack | | Kotonoha gathers her magical energy and mingles it with your power to attack enemies with spells that causes holy damage and her fox spirit enables you to recover health over time. |
Holy Blackness - Sword and Shield, Cannon, Staff, Katar
Streaming Light - Dual Blades, Harp
Enlightening Death - Dual Axes, Dual Pistols, Magic Book, Bow
Eidolon's Wish
Edit
Kotonoha's Fan Club I
Edit
Item required: Bread Pudding x2
Skills Bonus: DMG +36, SPEED +12, DEF +6
"A fan club for me? Hee hee!"
"Maybe we should distribute gifts to thank everyone?"
"It's true! I like Master most of all."
Kotonoha's Fan Club II
Edit
Item required: Mirabelle Quest Fortune Bag Reward
Skills Bonus: CRIT +14, HP +44, EVA +16
"Ha! Is Master concerned about my fan club? Don't worry - you're the only one with a place in my heart."
"What about this... if you're willing to help me find something, Master would be handsomely rewarded."
"Heehee! I'll disband the fan club, just to prove that you mean the most to me."
Kotonoha's Little Secret
Edit
"Master, I have a teeny little request..."
"My collection is missing something, and I'd like to ask for your help."
"Heehee! This collection is my little secret. Please, don't tell anyone!"
Kotonoha's Silky Skin I
Edit
"The weather's been so arid lately... could Master do me a small favor?"
"This is the formula for my skincare cream. Perhaps you could help me gather the ingredients?"
"Heehee! Master is welcome to touch my skin."
Kotonoha's Silky Skin II
Edit
"Exercise is key if you want smooth, supple skin."
"If I could get these treasures, I might consider exercising with you..."
"Heehee! You're so amazing, Master. I bet everyone loves you!"
You Can't Handle the True Form
Edit
"You'd like to see my true form? Well, of course..."
"But only if Master gives me what I want!"
"Heehee! Master is so nice. What's that, my true form? But Master, didn't you know that I'm always in my true form?"
Conversations
Edit
To see this Eidolon's Linking, Conversative, and Non-Conversative conversations click the link below.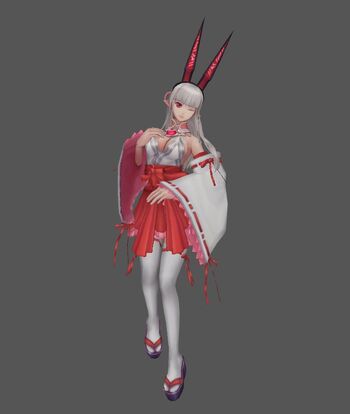 The image gallery for Kotonoha may be viewed here.
Etymology
Edit
Kotonoha is based on Tamamo-no-Mae, a legendary figure in Japanese mythology.
Kotonoha's voice actress in Fantasy Frontier (Chinese) is Satsuki Yukino, most notable for voicing Shimura Tae from Gintama.

Kotonoha and Tsubaki share the same voice actress.

Kotonoha's profile in the Chinese version of Aura Kingdom Mobile states that:

she is 16 years old.
she is 165 cm tall.
she weights 42 kg.
she is size 83-54-81 in bust size.

Kotonoha is a playable character in Grace Valhalla.
Alternative Names
Edit
| Server | Name/Translation |
| --- | --- |
| Fantasy Frontier (Taiwanese) | 玉藻前 (Tamamo no Mae) |
| Innocent World (Japanese) | 玉藻御前 (Tamamo no Mae) |
| Aura Kingdom (Korean) | 구미호 (Fox Spirit) |
| Aura Kingdom (French) | Kitsune |
| Aura Kingdom (German) | Tamamo |
| Aura Kingdom (Spanish) | Kitsune |
| Aura Kingdom (Portuguese) | Youkai |