"
This arcane bridge spans the space-time continuum. The only connection between the past and the future, it's also the location of the ultimate battle.
"

— Description
The Dimensional Belt is a location in the world of Terra. It takes place in Wrathborne Temple during the war between the Church and the Demon Army.
The setting serves as the tutorial of the game.
Background
Edit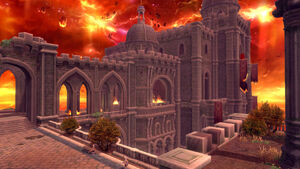 The Dimensional Belt is the only remaining part of Wrathborne Temple, with half of the temple now destroyed during the battle against the Demon Army, led by the Shadow Knight, Reinhardt. The Dimensional Belt occurred in the dream of an Envoy of Gaia, where the Envoy, alongside the Church's templars, fought the Demon Army but was soon defeated by the Shadow Knight.
Scenarios
Edit
Broken Altar
Edit
"

The injured are recovering at the side. Despite their suffering, their fighting spirit is still high.

"
Priest: "Holy Light, reign down your healing power upon your followers! Cease their pain!"
Injured Soldier: "Justice... shall... prevail..."
Injured Soldier: "Oww! That really, really hurts!"
Injured Soldier: "Hurry up with the cure! I wanna get up and fight!"
Injured Mage/Soldier: "I feel much better now..."
Wandering Doctor: "If you've been injured, try to rest! Or you'll take longer to recover."
Wandering Doctor: "Mhm... Looks like you've recovered quite well!"
Commander: "Everybody, pull yourself together!"
Commander: "It's a tough road ahead of us, but we have Andre leading us. We shall overcome the difficulties!"
Soldiers: "Death to The Shadow Knight!"
Mage: "Everlasting light!"
Crossing the Bridge
Edit
"

High Templar: Andre is just ahead, go meet him quickly!

"
Soldier: "Commander Andre is taking point! Go support him!"
"

High Templar: Excellent, victory can't be too far away with you around!

"
Soldier: "Alright! With you on our side, victory is ours!"
"

High Templar: Justice wins!

"
Soldier: "Justice will triumph, in the end!"
Reinhardt


<Shadow Knight>

Aggr

Coord

01
Hostile
--
Ad blocker interference detected!
Wikia is a free-to-use site that makes money from advertising. We have a modified experience for viewers using ad blockers

Wikia is not accessible if you've made further modifications. Remove the custom ad blocker rule(s) and the page will load as expected.