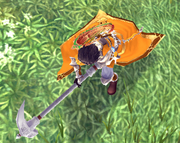 "
You're interested in the wonders buried underground? Archaeology is not so simple. It's not all treasure and glory. Sometimes you have to enter dangerous relics filled with monsters, or solve difficult ancient mechanisms.
"
— Robin
Archaeology is a feature that allows archaeologists to dig up, identify, and trade in ancient artifacts for archaeology tokens. An Archaeology Pickaxe and the Identification Tool Set are necessary to cultivate and examine artifacts.
As ruled by the Archaeology Association, in order to protect the historical ruins, archaeologists can only dig up 100 times per day. This limit resets at midnight Eastern Standard Time. An Archaeologist's Honor buff is provided to track the number of times archaeologists have dug up and identified an item.
Dig sites
Edit
Dig sites are located around the vicinity of an Archaeologist Merchant. Each map contains at most three dig sites, with each area only available on certain days.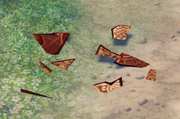 On open dig sites, the area will have certain spots radiating yellow sparkles on the ground. An artifact can be dug up on these spots when using the pickaxe. Once the artifact is dug up, the archaeologist can identify it by choosing one of the three available tools that correspond to the color of the glow.
Open dig sites
Edit
Map
Schedule
Sunday
Monday
Tuesday
Wednesday
Thursday
Friday
Saturday

Port Skandia
X:544, Y:575
Wisp
X:309, Y:666
Energized Crystal
X:272, Y:464
Chinaware

Helonia Coast
X:666, Y:306
Animal Bones
X:374, Y:578
Marine Fossils
X:341, Y:279
Stone Tablet

Crescent Hill
X:443, Y:495
Pottery Shard
X:269, Y:791
Handcrafted Relic
X:774, Y:621
Treasure

Cactakara Forest
X:517, Y:550
Chinaware
X:550, Y:180
Treasure
X:157, Y:619
Wisp

Demarech Mines
X:820, Y:426
Animal Bones
X:267, Y:688
Pottery Shard
X:371, Y:279
Stone Tablet

Triatio Highlands
X:106, Y:779
Rare Mineral
X:287, Y:152
Cultural Relic
X:626, Y:536
Cultural Relic

Candeo Marsh
X:737, Y:697
Pottery Shard
X:328, Y:172
Treasure
X:260, Y:773
Stone Tablet

Ventos Prairie
X:771, Y:846
Chinaware
X:521, Y:611
Handcrafted Relic
X:862, Y:583
Energized Crystal

Oblitus Wood
X:765, Y:551
Rare Mineral
X:480, Y:451
Marine Fossils
X:695, Y:195
Rare Mineral

Star Sand Desert
X:373, Y:520
Animal Bones
X:482, Y:645
Marine Fossils
X:228, Y:700
Energized Crystal

Vulture's Vale
X:550, Y:200
Wisp
X:756, Y:246
Treasure
X:669, Y:443
Handcrafted Relic

Blizzard Berg
X:144, Y:482
Wisp
X:652, Y:363
Animal Bones
X:468, Y:337
Cultural Relic

Starstruck Plateau
X:492, Y:515
Primitive Tool
X:242, Y:351
Corroded Relic
X:629, Y:468
Crumbling Tablet

Rainmist Reach
X:451, Y:406
Phosphorus Crystal
X:687, Y:684
Corroded Ore
X:367, Y:133
Radioactive Stone

Emerald Marsh
X:424, Y:315
Mutant Remains
X:712, Y:382
Mana Parasite
X:249, Y:689
Fallenwisp

Silent Ice Field
X:527, Y:631
Handcrafted Relic
X:618, Y:693
Frozen Remains
X:208, Y:496
Frozen Ore

Port Morton
X:318, Y:302
Sea Monster Limb
X:393, Y:641
Extinct Shellfish
X:547, Y:225
Ancient Shipwreck

Candetonn Hill
X:359, Y:176
Prehistoric Amber
X:204, Y:453
Charred Wood
X:428, Y:630
Dried Plant

Viridian Steppe
X:440, Y:274
Ancient Beast Claw
X:288, Y:516
Ancient Beast Remains
X:174, Y:167
Aged Giant Bone

Desolate Valley
X:745, Y:220
Magic Crystal
X:395, Y:608
Magic Orb
X:132, Y:563
Magic Runestone

Tanglevine Cascades
X:464, Y:385
Bone Club
X:204, Y:605
Alchemy Stone
X:692, Y:228
Magimagnet

Sunhunter's Vale
X:413, Y:359
Scarlet Utensil
X:521, Y:667
Stone Jar
X:100, Y:250
Ancestral Idol
Sunday
Monday
Tuesday
Wednesday
Thursday
Friday
Saturday
Reset occurs daily at midnight (GMT-5).
Interface
Edit
The Identification Tool Set is necessary to identify artifacts that have been dug up. Each artifact will radiate a different colored glow: yellow, red, or blue. Depending on the color of the glow, the corresponding color of the tool can be used to identify the item correctly. Incorrectly identifying the artifact will result in a lower quality item.
To begin identification, the player can right-click on the artifact to open up the archaeology interface. Once open, the player can open the interface to reveal three different tools to identify the artifact.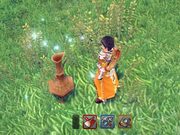 Tool
Description

Analyze
Use the reference manual and magnifying glass to analyze the ancient artifact. Suitable for identifying

yellow

glowing ancient artifacts.

Clean
Use the dustpan and brush to clean the ancient artifact. Suitable for identifying

red

glowing ancient artifacts.

Repair
Use the repair hammer and the potion to repair ancient artifact. Suitable for identifying

blue

glowing ancient artifacts.
Artifacts
Edit
Profession Levels
Edit
Archaeology Lv.
Novice Archeologist
Base level.
Apprentice Archeologist
Slightly reduces the chance of identifying tiny flaws.
Refining Level XP: 700
Journeyman Archeologist
DMG +840
Refining Level XP: 4200
Achievement Required: Dig
Expert Archeologist
Prices in the profession (Archaeology) store decrease by -2%
Refining Level XP: 9800
Artisan Archeologist
Slightly reduces the chance of identifying tiny flaws.
Refining Level XP: 19600
Seeker of Cultural Relics
ACC +1%
Refining Level XP: 42000
Grand Master Archaeologist
ACC +1%
Refining Level XP: 84000
Zen Master Archaeologist
Prices in the profession (Archaeology) store decrease by -3%
Refining Level XP: 133000
Epic Archaeologist
The chance to identify Legacy items increases.
Refining Level XP: 189000
Legendary Archaeologist
Max HP +1675
Refining Level XP: 252000
Merchants
Edit
Ad blocker interference detected!
Wikia is a free-to-use site that makes money from advertising. We have a modified experience for viewers using ad blockers

Wikia is not accessible if you've made further modifications. Remove the custom ad blocker rule(s) and the page will load as expected.